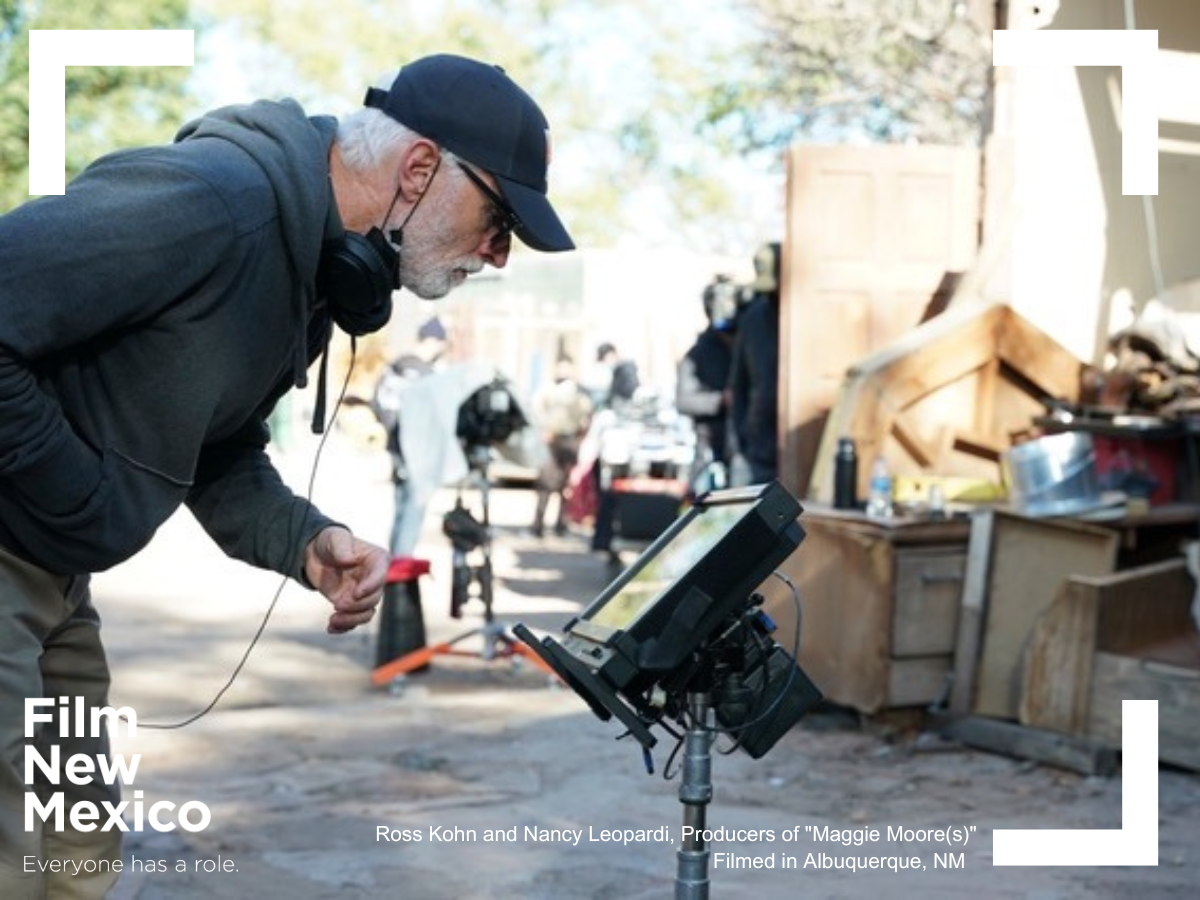 Thank you both for joining me today. I know things are crazy since Maggie Moore(s) just premiered. Congratulations on releasing and premiering.
Ross: Thank you. It's been a long road. Without the help of your office, having a good crew base down there, and awesome locations, it would not be possible to even make a movie like this.
Nancy: Thank you.
Why don't you tell me a little bit about yourself?
Ross: I'm based in New York. I spent a long time living in LA, and I moved to back to New York beginning of COVID. Long story short, I thought I wanted to be an actor when I grew up. I realized that wasn't for me, and in 2007, I left Los Angeles and got into finance as a trader, and I was so obsessed with making movies which is where I found money to make my first movie. I was lucky enough to meet Nancy in doing so, and that was over a decade ago, and we've made two dozen movies since together, and here we are.
Nancy, why don't you tell us a little bit about yourself?
Nancy: I grew up in New Jersey, went to college at the School of Visual Arts in New York, and studied photography. I got a job right out of school at Spin Magazine. So, I produced photo shoots for Spin Magazine for quite a few years. And decided I wanted to move to LA because I wanted to make movies. I got to LA, knew no one, and had to claw my way up from the ground up and met Ross, and the rest is history.
What motivated you to want to get involved in the movie industry?
Ross: I was always obsessed since I was little with movies and I always had a tough time in school. I wasn't the A student that my parents probably hoped I would be. I found this passion for making movies on my parents' camcorder.
In third grade, I convinced a teacher that rather than write a book report, which sounded like the most god-awful thing ever, to let me make a movie about it. That led to me talking my way into making short little movies and stories about what was expected of me to be a book report. I demonstrated that I did have an understanding and that I did read the material.
The way my brain works is just visual. I was lucky enough to realize how much fun that is. The fact that I get to do that and make a living doing it is fantastic. It's just the idea of a moving picture with the supplement of music was always a weird obsession for me.
Nancy: You know, when I went to the School of Visual Arts, I wasn't sure what area I wanted to do, so I studied photography. I studied; I was obsessed with music. I used to shoot rock bands. So, I would go and do shorts and music videos with rock bands, but I always loved movies. It just seemed like such a huge undertaking; how do you get 25, 50, or 100 people to do your bidding? So really, my path was photography. Then I started producing photo shoots for the magazine, which led to producing short films and music videos. Then, with the age of the web, I started doing web series and then got my way into features. So, it was a long journey trying to figure it out. The idea of being a student and taking on a whole production was overwhelming, but as the years went by, each piece of it became manageable.

Steady growth and progression into film?
Nancy: Exactly, from going out with my own camera, shooting what I wanted, directing a model to all the way to now having crews of hundreds and dozens of actors and huge locations and sometimes giant budgets, sometimes small budgets. I always hope that they're bigger, but yeah, it was a slow progressive growth which was great because I learned everyone's job along the way. I figured out how I had to help every department. When you do smaller films, you learn what's needed and what's necessary, and then how to help each department with the small number of resources that they have. And then, as the films get bigger, they get more resources and more people. And so, it's fun.
What made you want to bring the Maggie Moore story to life and onto the screen?
Nancy: The script, the script was fun and really well written. I'm a big fan of comedic thrillers, which is a very difficult subgenre, and finding a good script that can pull that off is amazing. And then, obviously, John Slattery is such a huge talent. He brought in actors of the caliber of Jon Hamm and Tina Fey and Happy Anderson and Micah, and the list is endless. Nick Muhammad, all those pieces made us really, really want to do this.
What made you want to choose New Mexico as the landscape and the location for this movie?
Ross: We had shot several smaller movies there in the years prior, and we had a good experience, and New Mexico is unique in that it just offers so much from an aesthetic backdrop. The script took place in what felt to be a small dusty town, which we had already known a lot of the places that we thought were right for it. So, as we read it, it just definitely made sense. Given that you guys have the tax program there, and it's not that far from LA, it checked all the boxes.
Nancy: Yeah, the original script was written for Arizona. So, having shot in New Mexico, knowing that you guys have all the resources, knowing that you guys have great incentives and great crews, and we already knew a lot of the locations there, it made perfect sense.
You were already familiar with the area and the fact that New Mexico can play a lot of different places. A lot of people don't realize how diverse the landscape and locations really can be. We've played everything from Montana to West Texas to Arizona, and it's great that you guys already knew that.
Ross: We had New Mexico play for Los Angeles for one movie. We had it play for somewhere in the Midwest. There's a diverse ecosystem. As long as you're creative about it, it could be a lot of different stuff and depending on the time of the year. Also, we were familiar with the tax program and how it worked. We've had nice relationships with the film office, which is always helpful because there are other states where it's never fun to learn for the first time anything. So, having done this a couple of times and knowing that we got our money back makes it easier. I think short of Georgia; you guys probably have one of the more robust film communities in the States.
Nancy: Everyone is very helpful at the Film Office. If we have questions, people are reachable. We can get them on the phone. We're able to ask questions and really turn the rebates around very quickly, which is an issue in other states. The people at the Film Office are very responsive and helpful. Not only just the rebate portion but also for help with locations. They sent us a bunch of locations and some help with whatever the rules are in terms of permits and things like that.
Also, the rentals and equipment are there. It's grown so much. The first few movies that we shot there were in 2019, I think. Oh, no, I shot one in 2012, and then we shot like three in 2019. The growth of the program there has been amazing. I remember a time when years ago you had to bring in all the equipment. So now the fact that the crew base has grown and all the equipment and rentals and all of the general vendors that you need, everybody is there and made themselves available.
Ross: Yeah, David Ketterman at Keslow Camera was great. We had a camera at one point, and I think it went down, and within probably less than an hour, they were able to service it. Things like that make it a lot easier and desirable to want to shoot in places outside of LA. It's when you don't have that support. It is sometimes tricky when issues arise.
You guys have been to New Mexico a few times now. What are your favorite things to do when you're not on set?
Nancy: The balloon fiesta. There are a lot of great restaurants and the New Mexican food. It's amazing.
Ross: There are beautiful hikes there, and I think it's a very mellow, low-key area, which is lovely.
Nancy: I also don't know if people know all of the art galleries. There are so many great art galleries in Albuquerque and some great vineyards.
How would you encourage someone who's trying to get into the industry or wants to get more involved in film? What recommendations would you have for them to break into the industry?
Ross: Actually, tell them to go to New Mexico because there's so much work there. If you want to learn the ropes quickly, that's, you'll get thrown into the fire quickly, and you got to prove yourself. But that's a great way to fast-track an acting career or whatever crew position you want to do, move up pretty quickly there as opposed to a Georgia or a Los Angeles.
Nancy: Yeah, I second that. I've told a lot of actors too. There's a lot of work. If you're trying to get your foot in the door, obviously, LA is very difficult unless you're a star name to kick down that door, but for up-and-coming actors, as well as DPs and camera crew there are so many opportunities to either get your foot in the door or move up in your department in New Mexico.
Ross: You also have a nice program there that incentivizes producers to move people up. So that's nice to help people move up when they're ready.
Nancy: Yeah, we found some great people that way.
Is there anything that you want to add regarding filming in New Mexico? Or anything about the Maggie Moore(s) film?
Nancy: Look at the film. The sheer beauty of so many of the locations is wonderful. I have a fine arts background and a photography background, and the landscapes are amazing. Some of the architecture is incredible. I think there are great opportunities there. It's a great place to shoot.
For anyone reading or seeing this, how can they find you or learn more about the projects that you guys have coming up and what you all are working on?
Nancy: We have a website, indy-ent.com. They can look at our website and, obviously, check out the movie. We have a social media presence on Instagram. Reach out to us there.
Ross: You can rent Maggie Moore(s) on all platforms, including iTunes, Amazon, and Voodoo. It will be streaming later in the year.