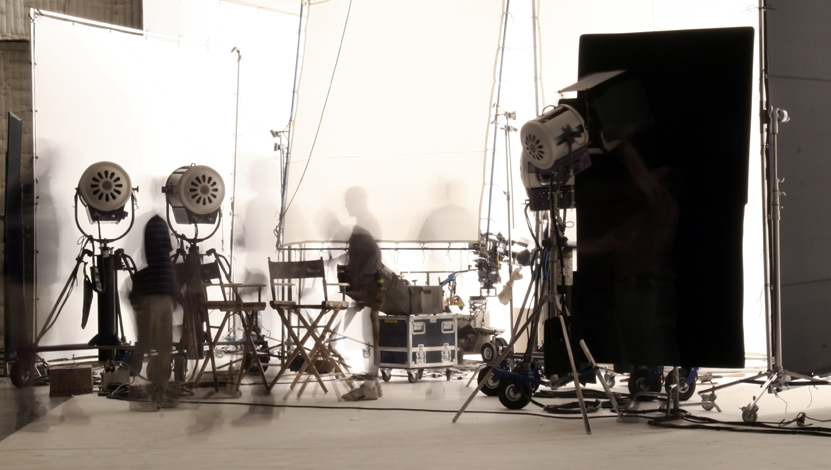 What is Operation Soundstage (OSS)?
The NMFO provides a program for the film and media industry to connect with and hire NM veterans. Operation Soundstage (OSS) is a NM veteran crew training program under the Film Crew Advancement Program (FCAP). This is a fast track program intended for qualifying New Mexicans who are interested in a job in the film and television industry. Veterans who have a transferrable skill set and are interested in training to advance in a specific craft department to a higher position are good candidates for this program.
---
What is the Film Crew Advancement Program (FCAP)?
This on-the-job training program focuses on NM residents working in primarily technical industry positions. This program serves as an incentive for participating companies to provide job opportunities to New Mexico residents who are ready to move up within their department or are adding a new skill set. All FCAP participants must have a mentor.

What jobs are available in the film and television industry?
Film and television productions employ hundreds of jobs with high wage salaries. NM veterans provide an excellent pool of skilled and talented professionals that would be ideal to fill entry level job openings, such as production assistants, caterers, and security. Veterans will gain set experience to segue into industry positions that include carpenters, electricians, editors, makeup artists, costumers and drivers.
---
What is the IATSE local 480?
IATSE Local 480 is the film technician's union of New Mexico. They represent professional technicians who work below-the-line in specific crafts on film and television productions. The Local will not find work for you, but will provide information about what jobs are available. Visit https://local480.com/ for more information.
---
Fast Track benefits for NM veterans joining the IATSE Local 480:
$700 of the initiation fee is waived. Veterans are only responsible for a $100 processing fee.
The membership requirement of working 30 days in a covered craft* on a contract production** is waived.
*covered craft – ones' job title – IATSE Local 480 represents 99 different craft departments;
**contract production – any film, television or commercial production that has signed a collective bargaining agreement with IATSE Local 480 in which the members are represented by the union and receive benefits from the production
---
IATSE Local 480 Requirements:

Veteran is a New Mexico resident

Veteran signs up to IATSE Local 480 Overflow list (proof of NM residency, 2 letters of recommendation, online safety & set readiness classes, adoption of Local 480 Harassment-Prevention Policy)

Veteran attends IATSE Local 480 New Member Orientation Class
IATSE Local 480 Additional benefits:

Once Veterans are on Overflow list, and once they are official IATSE Local 480 members, they will have access to the wide breadth of safety and skills training offered through the Local 480 Training Program – this training is free to all members

IATSE international offers members several online courses in safety training, hazard training, firearms, rigging, welding, etc. that are free to all members.

IATSE international also offers members a free subscription to linkedinlearning.com, which is an online library of instructional videos. There are over 5,000 courses available taught by industry experts in categories including but not limited to audio visual skills, animation, design, photography, software courses in Microsoft office, adobe, google, illustrator, goPro, drop box, AVID, Final Draft and more

IATSE Local 480 has an Education Reimbursement program in which we will reimburse 80% of costs expended to attend craft-related education & training, up to a maximum of $600 per year, per member on pre-approved courses
---

How do I get involved?
Update your resume. Please contact rochelle@nmfilm.com for a sample resume.

If you are interested in joining the IATSE Local 480 contact membership@iatselocal480.com and they can walk you through the process.

Register with the New Mexico Workforce Connection: https://www.jobs.state.nm.us

Keep up to date on the film and television industry in New Mexico visit nmfilm.com:

Join the NMFO monthly newsletter

Follow NMFO on Facebook, Twitter and LinkedIn

Listen to NMFO podcasts

Review crew calls on NMFO's bulletin board

To learn more about industry job positions and the "Chain of Command"
OSS Partnerships:
This multi-state agency partnership aims to increase the hiring and training of veterans and includes the New Mexico Film Office, the New Mexico Department of Veteran's Services and the New Mexico Department of Workforce Solutions.

Interested in becoming a background/extra?
Search our online listing of casting calls through the NMFO bulletin board. More casting calls can be found on social and through casting directors, here's more information to get you started.

For questions regarding OSS:
Rochelle Bussey, NMFO Sr. Manager
505-476-5600
rochelle@nmfilm.com

Questions about New Mexico Workforce Connection (NMWC):
Chris Zaffra
State Veterans Coordinator, Jobs for Veterans State Grant (JVSG) Program, Tribal Liaison and Agency Point of Contact for Federal Contractors
505-841-8517
christian.zafra@state.nm.us
---

Additional Incentives for Veterans
In addition to the Film Crew Advancement Program and the Refundable Film Production Tax Credit, productions may consider the following available resources for veterans:
Federal Work-Opportunity Tax Credit (WOTC) to Hire Veterans: https://www.dws.state.nm.us/Business/Resources/WorkOpportunityTaxCredit.

State of NM Employer Tax Incentive to Hire Veterans: https://www.dws.state.nm.us/Veterans/VetInformation/VeteranEmploymentTaxCredit.

Federal *GI Bill Education benefits for eligible veterans: www.gibill.va.gov. There are eight chapters in the GI Bill education program. Each chapter covers a specific military, veteran or dependent demographic and they are: four are for active duty service members, two are for the National Guard or Reserves and two are for dependents (spouses and eligible children).

NOTE: Employers can utilize the Federal WOTC program and State Employer Tax Incentive to hire qualified veterans, provided the employer meets all of the eligibility criteria for both programs.
Federal and State Veteran Services: