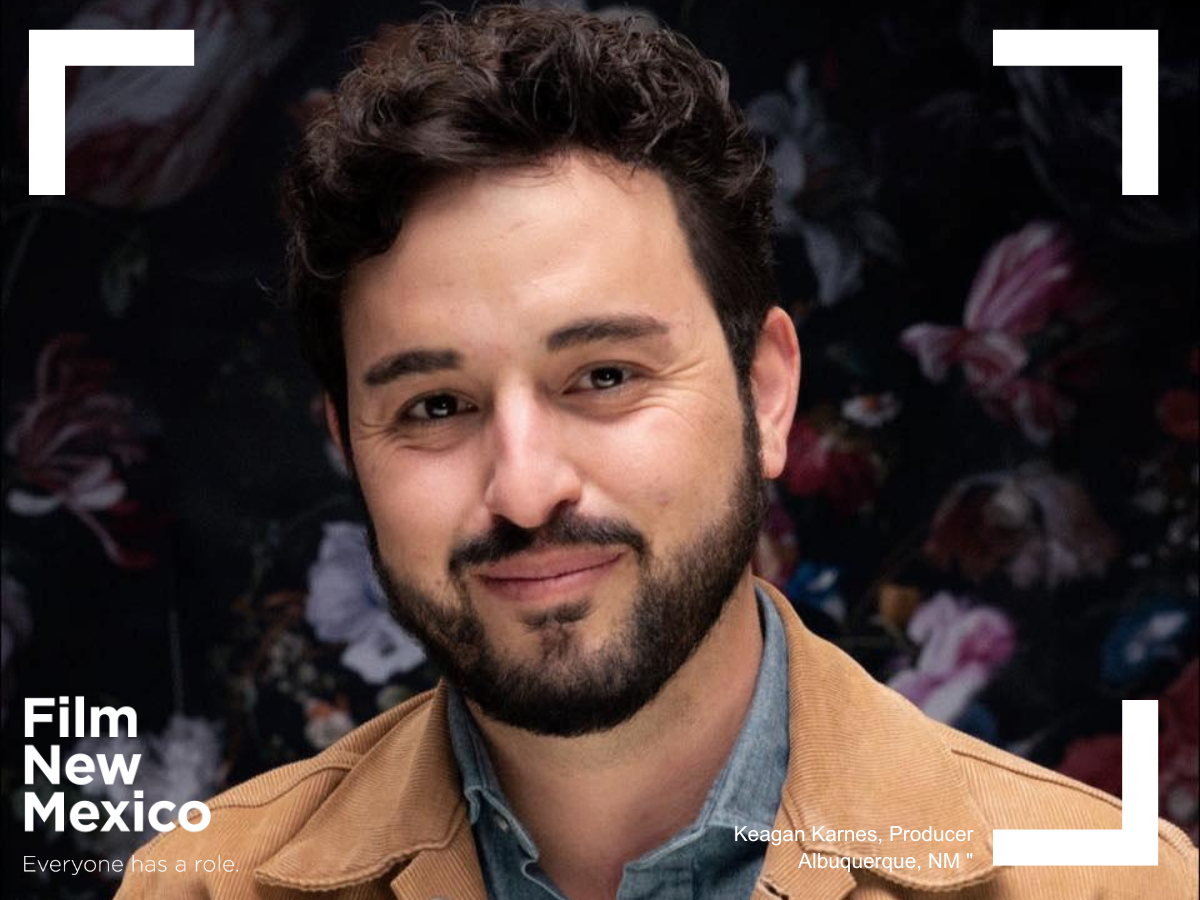 ---
Las Cruces native, Keagan Karnes, is growing local film and production and doing all he can to build the New Mexico film creators to help build the film industry and talent through his passion project Inspirado.
How did you first get into the film industry?
K: I went through a media magnet program in middle school, and that's when I first fell in love with filmmaking. With a group of friends, I was making the most ridiculous short films and editing on camera, and I just knew I wanted to do it. I continued learning and creating short films in high school, and then eventually, I went to New Mexico State University's Creative Media Institute, and after that, I moved to Albuquerque. I also did a few internships in Los Angeles and worked for short stints of time, but New Mexico has always been home. In Albuquerque, I started out as a production assistant working in the office, as well as a casting assistant for Harvey Keitel (Mean Streets, Taxi Driver). It was great to hear his stories about himself and Martin Scorsese (The Irishman, Boardwalk Empire). It was the best. He was great to me. After that, I decided I wanted to make my own stuff. I started doing commercials, music videos, and shorts for myself and with a group of directors I love working with, which turned into Inpirado. Inspirado is a thriving company that is about to have a big spurt of growth in post-production.
Richard Farmer moved to New Mexico in 2020 and reached out to me, and we decided to shoot a commercial together. He was willing to direct it, and we worked really well together and decided to start a company. That's how Inspirado was born! Once then, it has been growing through word of mouth in Santa Fe, Albuquerque, Denver, and Texas. We just keep getting busier and busier. We have also recently had an equity investor who said they wanted to help us grow and came in with resources that would allow us to open a larger office with a post-production facility with editing bays. Next year we will have a full post-facility for New Mexico.
What projects sparked your interests and lit the fire for filmmaking for you?
K: I love movies. I always have. I love comedy. I still think early Adam Sandler movies are some of the best comedies of all time. That's what got me into filmmaking and got me started shooting little comedies. As my taste progressed, I realized how powerful the medium is because it is an art form that can be distributed to the masses. It's the people's art form, and I think that telling more stories can add empathy in people. A movie can make you change the way you think without being heavy-handed. I have always been service minded. I like helping other people; for example, one of my favorite things about Inspirado is bringing New Mexican directors up. I love working with them.
The movie I did last year, Little Brother, is about a young suicidal man. It explores the nature of depression, mental health, and suicidal ideation without judgment. It lets you live with these characters. Talking about suicide and mental health, although it has been becoming more common for a long time, has been stigmatized. I was really excited to make a film that could ignite open conversations and understanding without judgment. That's what I love about the film. I can tell stories, even if they are stupid comedies, that have a great message.
What is your favorite comedy or Adam Sandler movie?
K: That's easy; Happy Gilmore. I watched it 200 times growing up, and I can quote every word. I think it is an almost perfect movie. I am also a big Seth Rogen and early Judd Apatow fan. That was the next renaissance of comedy.
With your short spurts of experience in Los Angeles, what do you think the difference is between working in and out of New Mexico?
K: It was a great experience working in LA due to its filmmaking history. What I didn't like is the traffic is insane, and there is a lot of red tape. It's expensive to permit, and every production is just trying to maximize the amount of money they can get. Basically, for a guy like me who is still young in my career, it would have been difficult to accomplish the things I have been able to in LA. For example, the movie I shot last year was a $1 million budget, which is great, and it sounds like a lot, but in the industry is not a large budget. I was able to make a really good move in New Mexico with that budget; in LA, it would have cost four times that, at least.

What does building up New Mexico film mean for you?
K: In New Mexico, we have a deep history of some of the greatest artists in the world, and I want to see the same success in New Mexico film. That talent is here, and it's important that we see more Latinx content in the marketplace. A changing statistic I read is that 25% of moviegoers are Latinx, but only 4% of lead characters in movies are Latinx. I see that as a hole in representation, as well as a business opportunity.
Besides expanding Inspirado, what other projects do you have in the pipeline?

K: I have a film slate of about five films that are in the early stages of development. They are primarily New Mexican writers and directors, and I have a film fund called 1912 films (the year New Mexico became a state) that is a vehicle for New Mexico investors to get into the film industry. We have had a successful raise.
What are some of your favorite past projects?
K: I did a movie called Walking with Herb in Las Cruces in 2017. This starred Edward James Olmos and George Lopez. It was a big movie for me at the time, and my college professor, Ross Marks, was directing and he threw me into the fire, and I learned so much with that experience. That is probably the most defining moment in the film industry I've had. It was very uncomfortable and really hard. I definitely left set in tears a couple of times, but the fact that he took a chance on me as a kid to produce a feature film with a significant film meant a lot to me, and it was the best experience I could have gotten. The Film Office and the Unions were a great support. I am so grateful for the film infrastructure. That film was financed by New Mexico investors and was then purchased by Sony and had a theatric and streaming release.
What is your favorite New Mexico-made film or series?

K: That's easy, No Country for Old Men. It is like a Shakespearean classic. Also, I love There Will Be Blood and The Longest Yard with Adam Sandler. And who doesn't love Breaking Bad?